The Phoenix monsoon season has a devastating effect on some of the best and most popular golf courses in the southwestern US.  Golfers enjoy their sport year round in the Phoenix valley climate… except during monsoon season.  These summer thunderstorms peak between mid-July and mid-August bringing severe weather and around half of Arizona's annual rainfall during this period.  This can lead to flash floods that visitors from outside the area do not expect to find in a desert region.  For golfers, "water hazards" can arise that are not part of the original planned golf course layout.
In the morning of August 5, 2016, heavy rainfall left a number of the Phoenix area golf courses under water.  Golf courses in greater Phoenix are often built along natural washes that are intended to carry away storm water.  However, during the Phoenix monsoon season several inches of rain can fall in an hour so the excess water flows backwards from these runoff management areas out onto the fairways.  The flooding typically does not last more than a couple of hours but it can be shocking to see how quickly the water rises when the heavy rains come.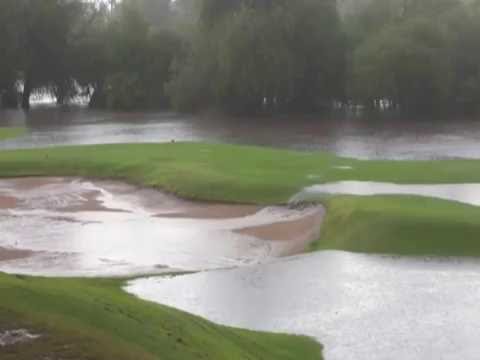 (Click picture for video)
While flooded fairways can put a damper on recreational activities, flooded roadways can be a serious danger, especially to visitors from outside Arizona who have not encountered quickly rising flood water.  Arizona enacted a statue in 1995 called the "Stupid Motorist Law" which stipulates that any driver who goes around barricades to travel on a flooded roadway can be charged the cost of their rescue.  Yet every monsoon season, Arizona has a number of "stupid drivers" who drive into flooded areas of roads thinking that the water can't be that deep or that the water is not rising that fast.  They not only face the delay and inconvenience of having their car stuck or swept away in rising flood water but they suffer the humiliation of being fined for the expense of having emergency response units come to their rescue.
If you are visiting Phoenix from outside of Arizona, please be aware of the risks of our monsoon season while you enjoy the rewards of our unique, wonderful, and beautiful environment.